rigenera 200
The essential multifunction shower column with steam generator for Turkish baths.
The ambience can be customized with any finishing materials: tiles, mosaics and all types of brickwork, to best express your lifestyle.
A room 7 m3 wide, fitted with two steam generators: Rigenera 100 e 200. 200 version is equipped with shower. At the end of the day, Rigenera is the ideal place for regaining your psychophysical wellbeing with its shower, Turkish bath and wellness program in a fabulous and aesthetically perfect solution.
Steam generator, can create a temperature of 40° with 80% humidity and is incorporated into two different types of columns, both equipped with folding seats and electronic display. The 200 version equipped with 6 hydromassage jets, headshower, a small shower, taps, and fittings.
---
rigenera 200
Measurement

35 x 11 x 199 H
Max power: 4 kW

Specifications

3/4 kW steam generator for Multiclima
Turkish baths
Boiler descaling system
5-way thermostatic mixer
Handheld shower head
Water blade cascade
3 vertical jets
Steel and polyurethane foldable seat –
Antracite colour
Steam dispenser with aromatherapy and phytotherapy diffuser
Chromotherapy
Touch keypad
Construction material: satin steel with Solid Surface front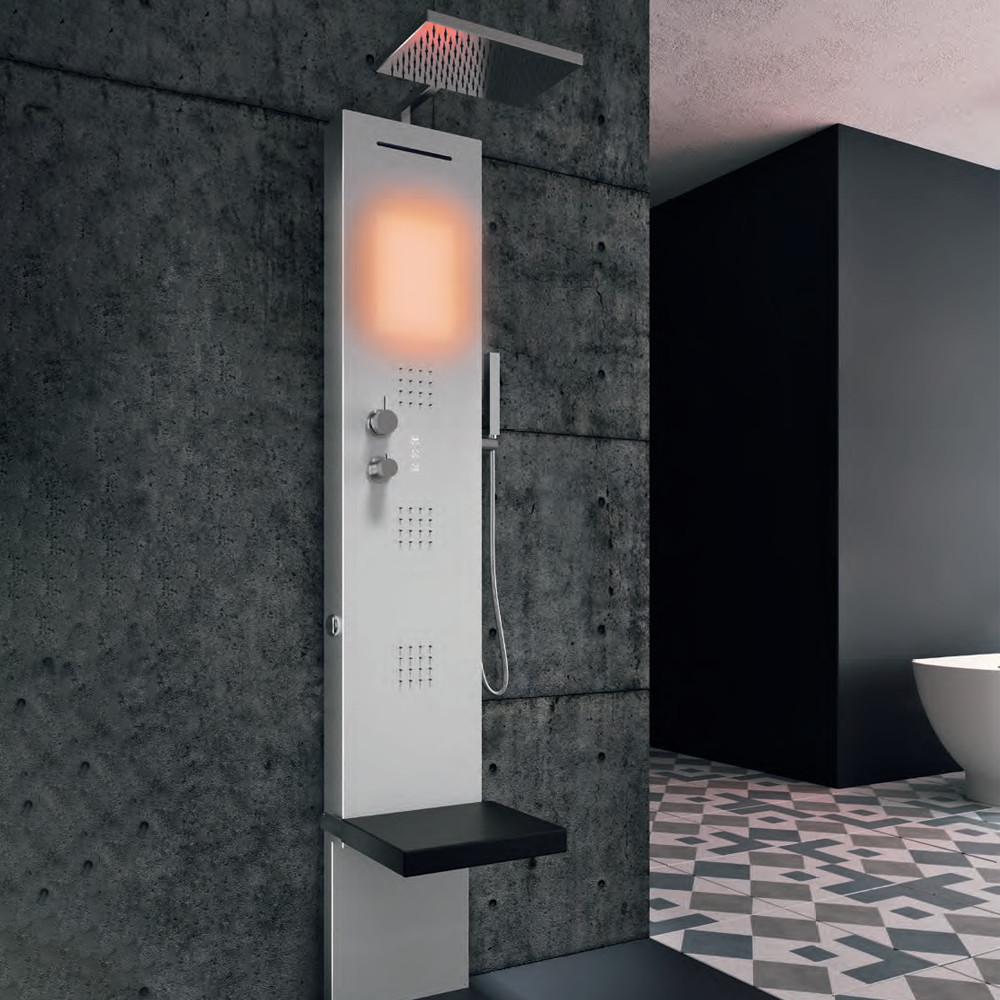 ---
rigenera 200
Measurement

35 x 11 x 199 H
Max power: 4 kW

Specifications

4 kW steam generator for Multiclima
Turkish baths
Boiler descaling system
Thermostatic mixer (of which 1 available for optional shower head accessory)
Handheld shower head
Water blade cascade
3 vertical jets
Steel and polyurethane foldable seat –
Antracite colour
Steam dispenser with aromatherapy and phytotherapy diffuser
Chromotherapy
Touch keypad
Construction material: satin steel with Solid Surface front