moon
An oasis of wellbeing in a prêt-à-porter Spa.
Moon freestanding
Above the ground outdoor or indoor solution that confers a touch of style to any environment and the exclusive wellbeing by Egoè.
The wide range of coatings and the optional high-tech equipment available, turn Moon into a small, comfortable and elegant jewel that can be enjoyed in your own home or in the charming atmosphere of a green garden.
Moon built-in
Built-in solution that transforms any environment into a private relaxation area, where one is free to let himself go and regenerate his senses.
Every detail was studied to make the experience even more fascinating and rewarding: the heater to ensure the appropriate temperature of use, the internal lights and the audio system complete the pleasure of the immersion while creating the right atmosphere.
---
moon freestanding
Measurement

x2/3 persons:
186 x 186 x 85 H

Specifications

Type: Stand-Alone
Seats: 2/3
Overall dimensions: 186 x 186 x 85 cm
Use: indoor/outdoor
Load-bearing structure
4 AIR-MASSAGE stations with 196 micro-holes
8 whirlpool nozzles
2 headrests
2 stainless steel interior lighting floodlights
RGB 7 colour LED – ø 83mm – 4 W – 230V – 50H
Multifunctional tub management control unit
Anti-freeze function

Weight and volume
Tub capacity: 700 l
Empty weight: 310 kg
Full weight: 950 kg

Pumps
1 blower pump 0.40 kW / 0.52 hp flow rate max 38 l/s
1 dual speed whirlpool pump 1.8 kW / 0.38 kW – 2.4 hp / 0.51 hp – 46.2 m3/h / 18 m3/h
1 recirculation pump 0.52 kW / 0.71 hp – flow rate 12.7 m3/h
1 electric heater 3 kW

Filtration system
Type: skimmer
Filter: sand with manual selector valve

Disinfection system
Type: Ozone/tablet

Electrical system
Power supply: 220-240 50 Hz single phase
Maximum absorption 3.5 kW

Control system
Top edge control: with Touch Screen panel

Side panel aesthetic installation kit
Striped petrol
Bronze leather
Aged platinum
Striped copper
Bleached oak
Black oak

Finishing

Interior finishing: Satin stainless steel
Exterior panel finishing: Satin stainless steel
Frame structure: Satin stainless steel
Tub insulation: Polyurethane foam

Accessories

Performance kit: pH dosing and automatic disinfection kit
Backwashing kit: Automatic backwashing valve kit
Heat kit: 20,000k1 heat exchanger
Tech kiT: 2 speaker audio system with Bluetooth connection
Wi-Fi kit: Wi-Fi connection for SPA management via tablet or smartphone
Thermal cover kit
Access step kit
Side panel aesthetic installation kit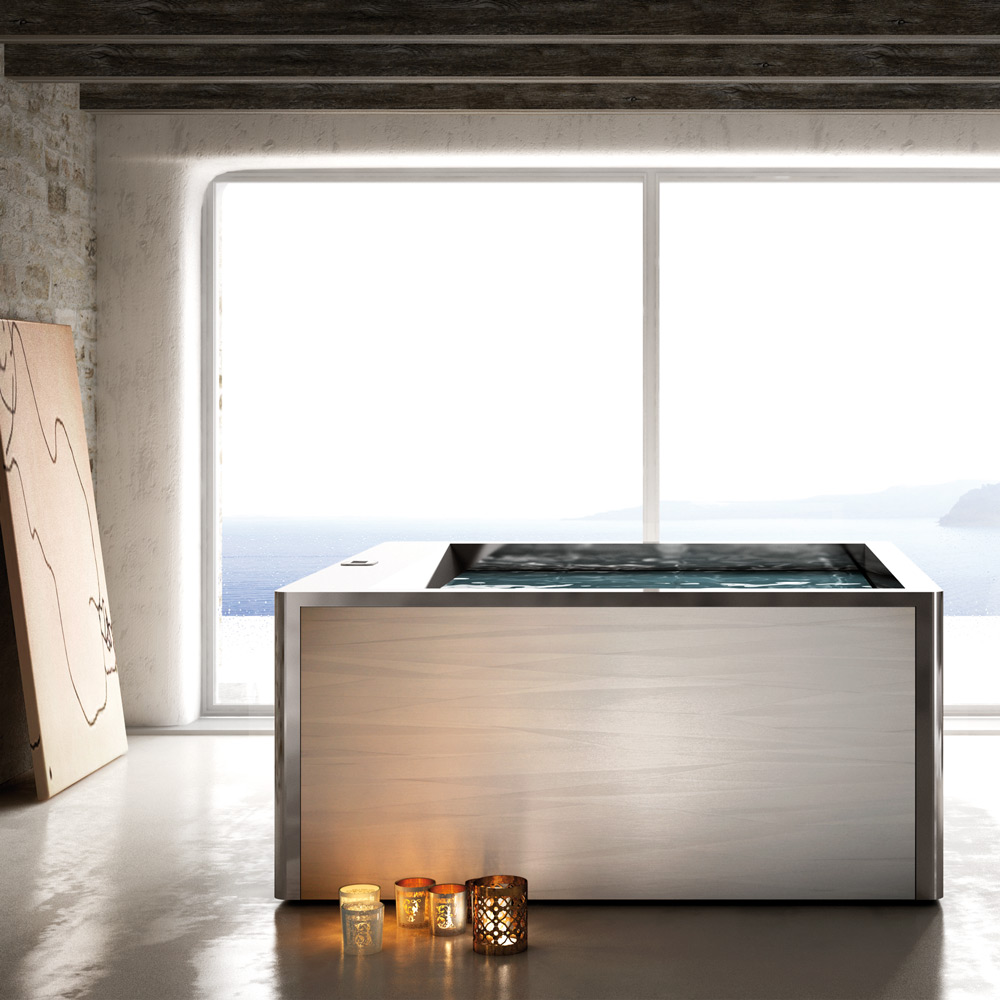 ---
moon built-in
Measurement

x2/3 persons:
186 x 186 x 85 H

Specifications

Type: Built-in
Seats: 2/3
Overall dimensions: 186 x 186 x 85 cm
Use: indoor/outdoor
Load-bearing structure
4 AIR-MASSAGE stations with 196 micro-holes
8 whirlpool nozzles
2 headrests
2 stainless steel interior lighting floodlights
RGB 7 colour LED – ø 83mm – 4 W – 230V – 50H
Multifunctional tub management control unit
Anti-freeze function

Weight and volume
Tub capacity: 700 l
Empty weight: 310 kg
Full weight: 950 kg

Pumps
1 blower pump 0.40 kW / 0.52 hp flow rate max 38 l/s
1 dual speed whirlpool pump 1.8 kW / 0.38 kW – 2.4 hp / 0.51 hp – 46.2 m3/h / 18 m3/h
1 recirculation pump 0.52 kW / 0.71 hp – flow rate 12.7 m3/h
1 electric heater 3 kW

Filtration system
Type: skimmer
Filter: sand with manual selector valve

Disinfection system
Type: Ozone/tablet

Electrical system
Power supply: 220-240 50 Hz single phase
Maximum absorption 3.5 kW

Control system
Top edge control: with Touch Screen panel

Finishing

Interior finishing: Satin stainless steel
Frame structure: Satin stainless steel
Tub insulation: Polyurethane foam

Accessories

Performance kit: pH dosing and automatic disinfection kit
Backwashing kit: Automatic backwashing valve kit
Heat kit: 20,000k1 heat exchanger
Tech kiT: 2 speaker audio system with Bluetooth connection
Wi-Fi kit: Wi-Fi connection for SPA management via tablet or smartphone
Thermal cover kit
Access step kit